Two shaft shredder is an important equipment in industrial waste material recycling fields, It has less limits as it can process various kinds of materials, such as aluminum can, which usually people can it aluminum can shredder, and people also call it tire Shredder Machine when it is used for waste tire recycling, so it is a commonly used as industrial waste shredder. The two shaft shredder is driven by two gearbox respectively. the mateiral is squeezed, torn and then discharged at the bottom of the Industrial Waste Shredder, finally is conveyed to a designed distance by a belt Conveyor.
As the Two shaft shredder can be used to process various kinds of materials, so it has various names according the material it's applied, for example tire shredding machine, industiral wood shredder, textile shredding machine, used clothes shredder, scrap metal shredder and so on. It is a industrial waste shredder as it can be used for various kinds of material reycling.the whole plant is complete automatic shredding system which is controled by PLC system. and the shaft will reverse when the feeding size is too big, which can make sure the Two Shaft Shredder is not damaged.
Two Shaft Shredder or double shaft shredding machine is a kind of waste material Recycling Equipment, which is mainly used for reduce the the size of the waste material, it can be used to process waste tyre, waste furniture, scrap metal, bike, motocycle, aluminum radiator heater, car body, contruction template, tree root, paint steel drum and so on,which make it become the important industrial waste shredder nowadays. the output size is range from 3-10 cm, and with some improvement, the output from our dual shaft shredder is about 5mm.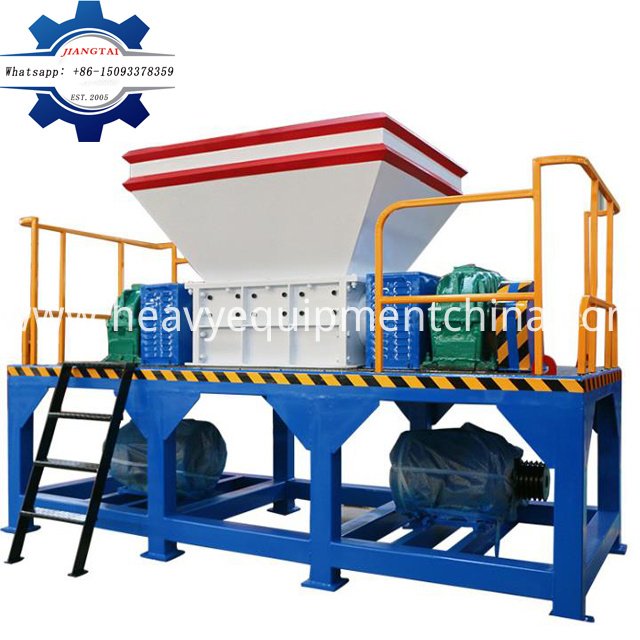 Brief Info of Two Shaft Shredder Machine/ Industrial Waste Shredder /Aluminum Can Shredder
Double Shaft Shredding Machine Scrap Metal Shredder is a newly developed energy-saving equipment, is the most advanced crusher to crush plastic, rubber, wood, paint barrels, electrical appliances shell, giant tires, nylon materials, fiber and other waste. Users can use different configurations according to the type of materials, the size and the requirements of finished products. We constantly improve our technology combined with the practical application of domestic and foreign customers.
Advantages of Two Shaft Shredder Machine/ Industrial Wood Shredder /Aluminum Can Shredder
:
1. The shredder machine is suitable to process very big size of plastic material, such as plastic pipe, plastic board, wood, woven bags, tire, aluminum cans, little diameter of copper wire and pressing plastic film which the single Shaft plastic shredder can not process, new designed especially for crushing the film in rolls, hollow barrels and so on. 1. Dual axis low speed, large torque, large capacity, effective crushing, energy saving, low noise, widely used.
2. The modular design of the whole machine is convenient for maintenance and replacement.
3. The blades and gaskets are made of special alloy steel with high stiffness and wear resistance from abroad. After surface treatment, the blades and gaskets have good cutting performance. In addition, titanium plating is used to make the blades more rigid, wear resistant and corrosion resistant, and the service life is prolonged by 2 times.
4. The combination of shaft and blade adopts spline structure, which has large torque transmission and is not easy to deform, and is easy to remove and maintain.
5. Motor and gear reducer adopt famous brands at home and abroad to ensure that the power system is stable.
6. The bearing block is patented for easy disassembly and quick disassembly.
7. Special sealing structure can effectively prevent damage to the gearbox, the treatment of liquid materials can protect bearings and gears.
8. Multiple protection systems of metal shredder.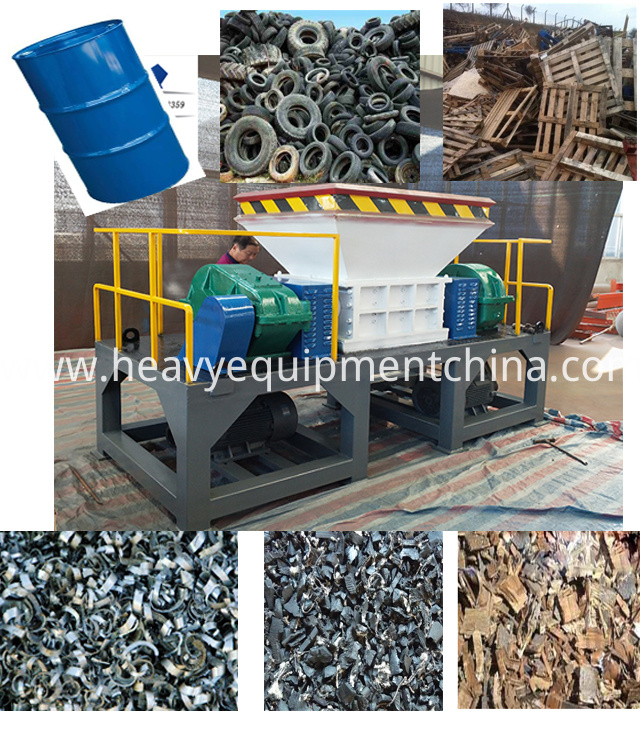 Working Principle of

Two Shaft Shredder Machine/ Industrial Wood Shredder /Aluminum Can Shredder

The basic principle shredder machine are to use the basic principle of the cutting machine, and the unloading port adopts the filter conveyor, high-speed high torque motor drive the rotor cutting machine to rotate the main engine. Material that strikes the cavity is broken, and the space between the lining and the tool is broken into fragments that conform to the specification by forming the material. According to the working conditions, the system can be divided into dry-wet system and sub-humid system.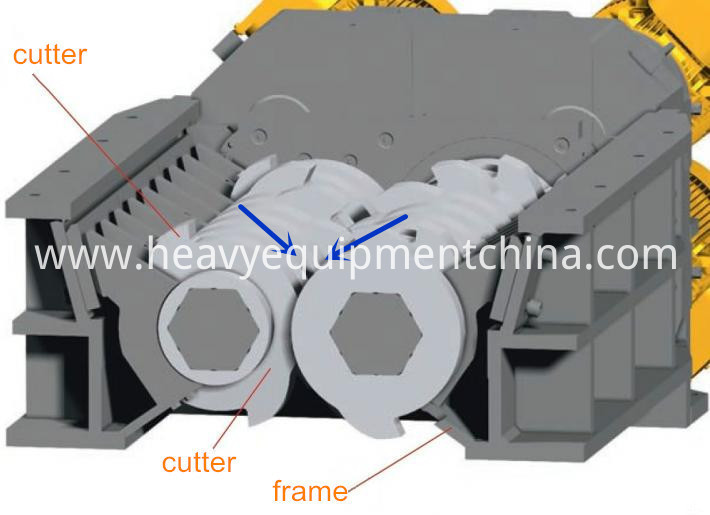 Product Application of

Two Shaft Shredder Machine/ Industrial Wood Shredder /Aluminum Can Shredder Materials can be processed by Mingyuan top quality two shaft shredder:
*All types of tires--- Car tires, van tires, truck tires, mining tires, OTR tires etc;
*Metal--- Car body, Baled aluminium,Scrap steel, Paint bucket;
*Cables--- Copper cable, Aluminium cable,etc;
*E-waste---Home applicance( Refrigerator,Printer, Washer,Air Conditioner),PCB board;
*Wood/Timber--- Pallets, Waste wood borad,stalk or biological straws;
*Solid Waste--- Mixed Household & Commercial Waste - RDF/SRF Production
*Paper & Cardboard --- Confidential Documents, Production Waste, Packaging Materials etc.


*Plastics --- Various rigid and flexible plastics including Mouldings, Purgings/Lump, Profiles, Films etc.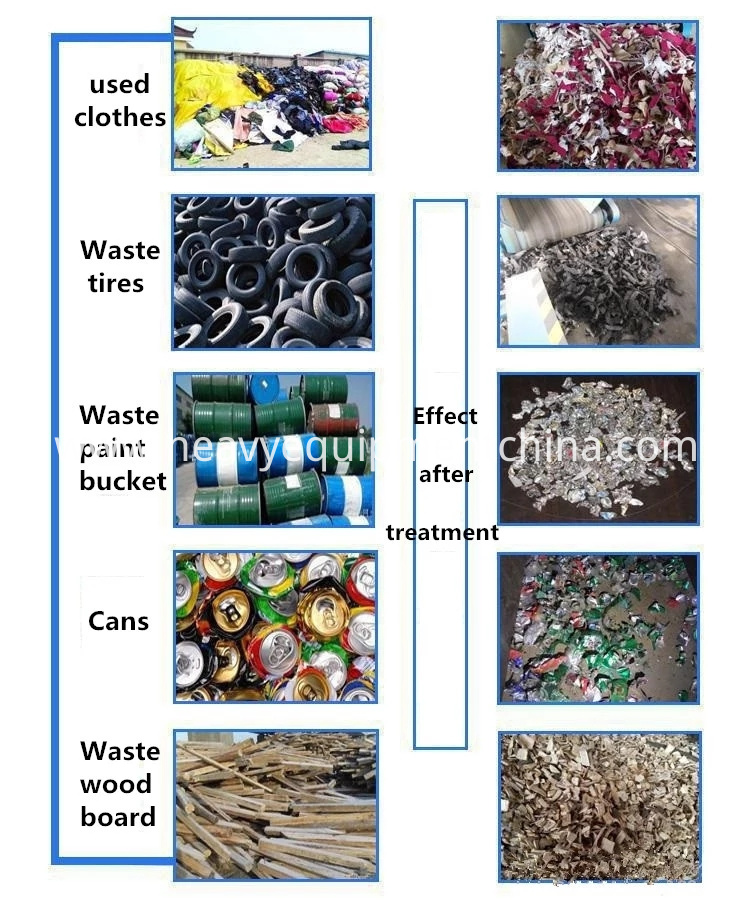 Specification of

Two Shaft Shredder Machine/ Industrial Wood Shredder /Aluminum Can Shredder
| | | | | | | |
| --- | --- | --- | --- | --- | --- | --- |
| Model | JT600 | JT1000 | JT1200 | JT1500 | JT1900 | JT2600 |
| Main shaft power | 4-15kw*2 | 4-30kw*2 | 4-37 kw*2 | 4-45kw*2 | 4-90 kw*2 | 4-160kw*2 |
| Main shaft rotary speed | 18-20rpm | 18-20rpm | 18-20 rpm | 14-16 rpm | 14-16 rpm | 16-18 rpm |
| Working capacity | 2-5t/h | 5-10 t/h | 6-15 t/h | 8-18 t/h | 10-25 t/h | 25-60 t/h |
| Weight | 3000kg | 5000 kg | 6000 kg | 12000 kg | 15000 kg | 36000 kg |
| Conveyor motor power | None | None | None | 4-3kw | 4-3kw | 4-3kw |
| Number or cutter head | 20pcs*φ400 | 34 pcs*φ400 | 42 pcs*φ400 | 46 pcs*φ550 | 50 pcs*φ600 | 40 pcs*φ720 |
| Finished ships size | 3-10cm | 3-10cm | 3-10cm | 3-10cm | 3-10cm | 3-10cm |
| Feeding tank size | 0.82×0.9m | 1.2×1m | 1.4×1m | 2×2m | 2.3×2m | 2.5×1.4m |
| Dimension | 2.6×2×1.9m | 3×2×1.9m | 3.2×2×1.9m | 4×1.7×2.4m | 8×2.5×2.4m | 8.2×4×4.3m |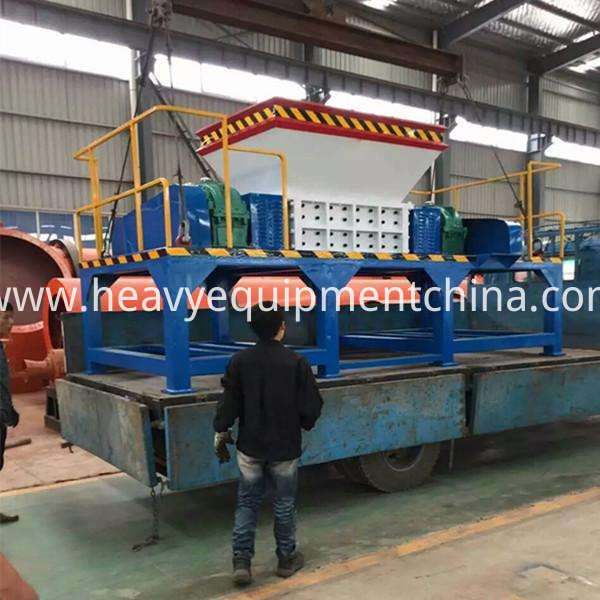 Looking for ideal Aluminum Can Shredder Manufacturer & supplier ? We have a wide selection at great prices to help you get creative. All the Industrial Waste Shredder are quality guaranteed. We are China Origin Factory of Two Shaft Shredder. If you have any question, please feel free to contact us.
Product Categories : Scrap Recycling Equipment > Shredder Machine