Introduction of Easy Operation Scarp Metal Crushers For Recycling
Metal hammer mill crusher is also called Metal Crusher, is a kind of crushing waste metal materials machine, according to the different crushing materials can also be called scrap iron crusher, can crusher, scrap steel crusher, paint barrel crusher and so on. These are general equipment for metal crusher. The production line device with qualified metal crusher is a set of metal crusher production line equipment.
The new metal crusher can tear all kinds of metal materials, such as circuit boards, to the shape and size of easy to handle. Metal smelting, metal recovery and ideal processing equipment for iron and steel enterprises.
The scrap metal crushing production line can deal with the following scrap: the whole car with or without engine is flattened or not flattened; the light and thin material with a density of less than 1t/m3 is cut or packed; the plate thickness is less than 6m m, the width is less than 2.6m, the length is not more than 5m; the household appliances such as air conditioner, washing machine, refrigerator, etc. . It crushes scrap steel by hammering, separates rust and paint from the surface of scrap steel in crushing, and then, under the action of Magnetic Separator, separates the mixed non-ferrous metal, plastic and rubber waste from scrap steel. Not only can we get pure broken steel, but also we can pick and recycle non-ferrous metals manually. The accumulative density of crushed ingots, billets and similar materials can reach about 1.2t/m3. It is an ideal burden for EAF steelmaking.
Advantages of Easy Operation Scarp Metal Crushers For Recycling:
For scrap recycling enterprises, the advantages of using crushers to process and recycle scrap steel are:
1. The blade of scrap mill is a meshing blade refined from high alloy, which has a good effect on any material with high hardness.
2. Scrap steel mill speed reducer motor drive, than other cans cans mill to save 20% of the electricity.
3. The scrap crusher starts smoothly without too much noise, and the foundation is installed. The noise is very small.
4. Scrap steel grinder strong structure, dense stiffening plate, to ensure that the box is strong.
5. Scrap mill can be equipped with Conveyor belt feeding equipment. The scope of processing and recovery has been expanded; the value space is high; transportation is convenient and efficient.

Working principle of Easy Operation Scarp Metal Crushers For Recycling:
The crushing of scrap means that the crusher crushes the scrap, and the separation system is used to separate the crushed scrap to obtain the pure high quality scrap. Its working principle is that under the continuous drive of high-speed and high-torque motor, the hammer head on the rotor of the crusher crushing the scrap into the chamber in turn. Under the strong impact, the scrap is torn and extruded into a certain size of crushed steel, and then treated by the separation equipment, the high-quality crushed steel with high purity can be obtained. When iron blocks and other hard objects can not be broken into the cavity, the overhead protection device will automatically release them, and then immediately reset, without affecting the normal operation of the equipment. The multi-point separated hydraulic lubrication control system can ensure the double protection of bearing lubrication and overload protection. It can separate various non-ferrous metals (such as copper, aluminum, lead, tin) and so on. Effective reduction of sulphur content in molten steel. In smelting, because the uniformity of scrap steel is better and the density of filler is increased, the magnetic field and heating in the furnace are uniform, and the melting rate of molten iron is accelerated. It has the characteristics of power saving and fast speed.
Technical Data of Easy Operation Scarp Metal Crushers For Recycling
| | | | | | | |
| --- | --- | --- | --- | --- | --- | --- |
| model | feed size (mm) | discharge range (mm) | capacity (t/h) | power (kw) | weight (t) | size (l*w*h)(mm) |
| 1400 | according to your needs | 30-60 | 3-5 | 75+55 | 21 | 2500*1800*3400 |
| 1600 | according to your needs | 30-80 | 5-8 | 90+75 | 27 | 2800*2000*3500 |
| 1800 | according to your needs | 30-80 | 6-10 | 132+90 | 38 | 3620*1910*3870 |
| 2000 | according to your needs | 50-100 | 8-12 | 180+132 | 45 | 4320*2130*4000 |
| 2200 | according to your needs | 50-120 | 10-18 | 250+110 | 57 | 4140*2230*4279 |
| 2400 | according to your needs | 80-150 | 15-20 | 280+132 | 78 | 6200*3215*4568 |
Performance characteristics of Easy Operation Scarp Metal Crushers For Recycling:
The size of the holes in the equipment screen of the scrap crusher production line can be customized according to the requirements of the users. The equipment uses special durable rotor disc, unique design, thickened cast steel, and is heat treated to save power, increase stable wear resistance, impact resistance, durable.
Crushed materials from scrap crushers are separated from ferrous and non-ferrous metals by vibrating conveyor, belt conveyor and Magnetic Separation system, and sent out to heap by respective conveyors. Non-ferrous metals and non-metallic materials in the conveyor will again be searched by magnetic separation equipment to pick out free iron metal, thereby improving the recovery rate of iron and metal, and through the manual selection of non-ferrous metals, can improve the recovery efficiency. The scrap crusher has low noise, no pollution, high crushing efficiency, fine crushing of discharged materials, even granules, and the price of scrap crusher is very cheap. According to different models, the price of scrap crusher varies in the market, but the price of scrap crusher in Zhongding is fair. Welcome relatives and friends from all over the country to our factory for on-the-spot investigation. Check, Zhong Ding's scrap mill production line won't disappoint you.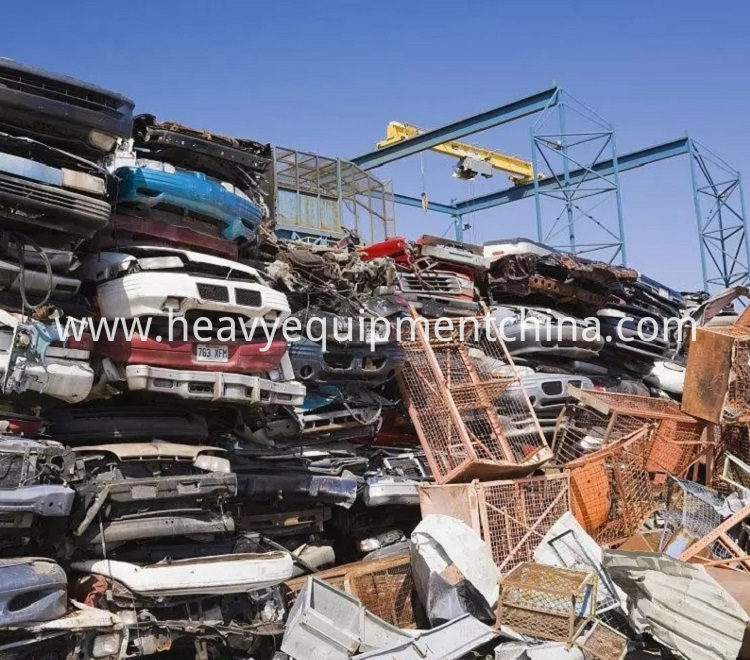 Looking for ideal Scarp Metal Crushers Manufacturer & supplier ? We have a wide selection at great prices to help you get creative. All the Scarp Metal Crushers For Recycling are quality guaranteed. We are China Origin Factory of Easy Operation Scarp Metal Crushers. If you have any question, please feel free to contact us.
Product Categories : Scrap Recycling Equipment > Metal Crusher